EWCT has had a year of celebrations, although with sporadic lockdowns throughout the year we were unable to celebrate in style. We have celebrated 10 years as the regional epilepsy provider and we have grown from strength-to-strength in that time. We have written a short article about our history, and that of our predecessor group (Epilepsy Waikato) in the Waikato region.
Our trust board comprises of a small team of highly committed people who have led the way with innovative ideas and always with the epilepsy community in mind. For example, we have joined forces with 'Seizure Alert Australia' in marketing, and selling, a number of seizure alarms and devices which means that all New Zealanders living with epilepsy have greater access to these products than ever before: www.seizurealertaustralia.co.nz
We have also published another book entitled, 'Understanding and Managing Epilepsy – an Introductory Guide'. We donated 100 copies of the book to the Neurology Department of Waikato Hospital, and copies have also been given to all of the libraries in the Waikato region. Articles about the book and donations are available at https://ewct.org.nz/ewct-publishes-new-book-on-epilepsy/ and at https://dailyencourager.co.nz/new-hope-for-understanding-and-managing-epilepsy/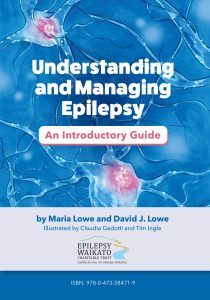 Our intention is always to give appropriate information to anyone wanting to learn more about epilepsy. Previously we had produced two children's books, 'Ben's Buddies' and 'Ariana and Jack', which have been well received by people in New Zealand and from around the world. Our three books can be quickly and easily purchased at our online shop.
We continue to write new factsheets on epilepsy and keep our others updated. We have developed two first aid posters, which can be downloaded and then printed at appropriate size for display here.

Education is something that we do well, as is giving support and advice to those living directly and indirectly with epilepsy. In fact, we are 'leading the way' in a number of ways and we intend to continue working hard for you all.
Because of lockdown a number of our normal yearly events did not happen. We were not able to attend any expos, go on our annual walk 'Around the Bridges' or to meet you socially, but we kept in touch because we are aware that that there are many worries around the Covid-19 virus. Our epilepsy advisor (Maria Lowe) maintained contact throughout the year by phone, text, email and online meetings. Maria also encouraged people to engage in this year's international epilepsy awareness project, which we named, 'Flying the flag for epilepsy'. A big 'thank you' to all who participated!
Summer is here!
Here are EWCT's 'smart tips' on how to enjoy summer this year. Be …
1. Epilepsy smart:
Make sure that you have your medications up to-date
Remember to take your medications as usual
Manage your seizure triggers, if you have one
Assess any risks around your seizures and activities, especially near water and barbeques
2. Wellness smart:
Sleep well
Eat well
Exercise
Slip,slop, slap and wrap on those hot sunny days
Drink plenty of water
Go easy on recreational drugs and alcohol
3. Covid smart:
Have your vaccination passport at the ready
Scan the QR code to record where you have been
Wear your facemask
2-metre distancing is a must
Keep up healthy habits
3. Time smart:
Take time to relax
Time to enjoy the company of family and friends
Time to do the things that you enjoy
Time to do some art
Time to listen to music
Time to meditate
Time to be you!

If you need help over the summer, here is a list of useful contacts.
Heretohelpyou: This is a very useful organisation that will help you to connect with
(a) mental health support,
(b) safe social connections,
(c) general information,
(d) employment services,
(e) collection services,
(f) food parcels,
(g) prepared meals,
(h) financial,
(i) youth support,
(j) technology,
(k) housing,
(l) education

https://heretohelpu.nz/

Nationwide counselling services: https://ewct.org.nz/a-z-of-epilepsy/
Scroll down to the letter C and click onto "counselling services".

Important numbers:
Emergency (Police, ambulance and fire): 111
Police – non emergency: 105
Healthline: 0800 611 116
Healthline Covid: 0800 28 29 26
Poisons centre: 0800 764 766
Waikato Hospital: (07) 839 8899

We will be working right up to the 24th December and Maria and Margaret will be back in the office on Monday 24th January 2022. If there is an emergency, please phone 111.
EWCT is an independent epilepsy provider, not affiliated to either Epilepsy New Zealand nor the Epilepsy Foundation. We wish to thank our funders for their generous support.


Season's greetings. We will see you again next year.
Keep safe and well!