EWCT comprises a trust board, staff, and members and their supporters. EWCT is governed by the trust board and is based in Hamilton to serve the needs primarily of the people of the Waikato region, as embodied in our logo and motto "Leading the way" or He arahanga whakamua.
EWCT works collaboratively with clients, community groups, schools, and medical specialists.
Epilepsy Waikato Charitable Trust
believes in:
E

quality for all,


W

orking collaboratively, being


C

ommunity focused, and


T

ransparency, honesty, and integrity.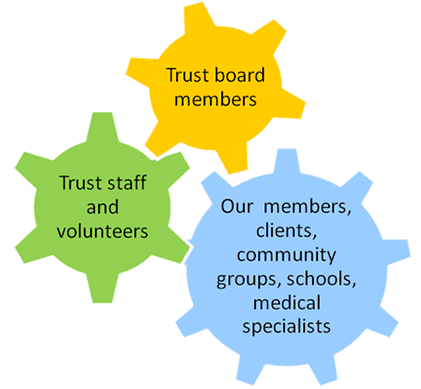 Trust Board
Tim Macindoe, Patron
David Lowe, Chair and Communications
Jill Davies, Deputy Chair and Funding Manager
Emma McNeill
Stephanie Hetaraka
Faith Gibbs
Cyril Markham
Bryce Hopkins
Staff
Maria Lowe, Epilepsy Adviser
Margaret Paine, Administrator