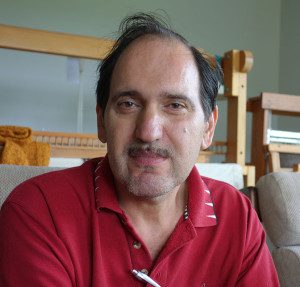 My name is Mike and I have had epilepsy since I was eight year's old, as a result of meningitis. When I was growing up I became known as Fits by my classmates.
I have been on several medication trials over the years, with varying results, and I have travelled to Australia twice; once for an MRI and the second time for brain surgery, neither was available in New Zealand at that time. Further brain surgery was declined by me because there was an 80% chance of me losing my eyesight and no guarantee of seizure control. I wasn't prepared to take the risk.
The most annoying thing about having epilepsy for me is the lack of total independence. I would loved to have been able to drive a car. I have held down two jobs in my life, both in Huntly where the employers knew me. When I moved to Hamilton, I felt daunted applying for jobs and I felt that my epilepsy was a barrier to gaining employment.
The majority of my seizures are complex partial, absence, with the occasional tonic clonic. My complex partial seizures are problematic and I have been thrown out of shops during those seizures because people have thought that I have been drunk. Most people only seem to recognise tonic clonics as being epilepsy, and that is frustrating.
Recently I broke my femur as a result of a tonic clonic seizure in my kitchen. Ironically, I had just been out with Maria Lowe, the epilepsy adviser, on a "safety in the home" talk. She dropped me off home and, the mere action of switching off the light in the lounge, to walk through to my bedroom, was enough to cause me to seizure. Fortunately I have a border staying with me, and he called emergency services. The silver lining in the cloud is that I now use an excercycle for at least an hour a day. I am fitter and I have lost a lot of weight.
Today, I am on a cocktail of drugs. I am taking four different types of AEDs for my epilepsy (20/day) and 12 tablets/day, for my other medical conditions, which is over $50/script! Because of the amount of AEDs that I have taken over the years it has caused me to have osteoporosis because the calcium has been leached from my bones. It is no wonder that I broke my femur!
I don't complain about my epilepsy because I feel that there is always going to be someone worse off than me. Instead, I busy myself with my woodworking hobby and I maintain a quirky sense of humour!