Welcome everyone.
We get to this time of year and think "Goodness, where has the year gone?" With only five months to go before Christmas, it shows that EWCT has been busy as the leading epilepsy provider, with many highlights to be proud of. At a special mid-winter dinner function on 9 July 2016, EWCT presented two 'epilepsy hero awards' to Lindsay Cumberpatch and Tim Macindoe. To commemorate the organisation's 5th anniversary, EWCT initiated the hero awards to recognize the outstanding support of one or more individuals each year. Inaugural heroes, Tim and Lindsay, have both played exceptional roles in helping EWCT develop as an entity and to become the leading provider for helping people with epilepsy in the Waikato region. Thanks Lindsay and Tim!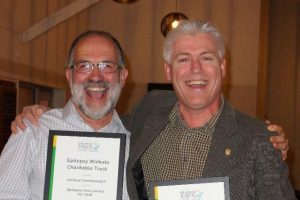 EWCT enjoys being part of a collaborative entity, with many of our clients cooking up a storm in the Methodist City Action kitchen with Jen Hobson, a much respected and talented five-star chef. This cooking course has been running successfully for a number of years now and it is designed to help people with epilepsy to cook safely, within a budget and with flair!
Our board member, Wade Limpus, works alongside Sharon Jefferies, of the Blind Foundation, in a collaborative initiative called Job Chat.
Thank you very much Wade.
JOB CHAT
Come and improve your chances in employment with an employment specialist. You will receive free:
• Face-to-face appointments with your own employment mentor
• Up-to-date information on the job market
• Help with CV writing and covering letters
• Help with interviewing techniques
• Job search strategies
• Job shadowing ideas
• Support and encouragement to achieve
Contact: Sharon on 027 201 6794 or 0800 2433 33
Email: Wade: jobchatwaikato@gmail.com
In 2014, EWCT produced a children's epilepsy book called "Ben's Buddies", which has proven to be very successful. It was reviewed this year by Epilepsy Society UK: "This book is short, sweet and beautifully illustrated for children. Ben's buddies was written to help demystify epilepsy and break down barriers, which it does in an entirely appropriate manner for children. It would also be a useful resource for teachers and school staff as there's a very clear and accessible seizure action plan page at the end of the book."

Ben's Buddies is regarded as a taonga by our many Maori families and community leaders.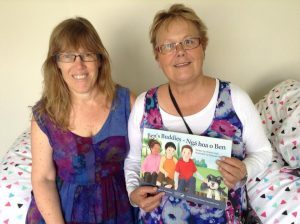 Sharon Holt (author) with Maria Lowe (EWCT epilepsy adviser) worked well to create a winning epilepsy story for children called, "Ben's Buddies".
Maria gives lots of talks to community groups and supports a growing number of people with epilepsy in a range of ways.
EWCT clients and members enjoy many social events throughout the year in Hamilton, Tokoroa and Huntly, with more groups to be established in other areas of the Waikato as we continue to grow.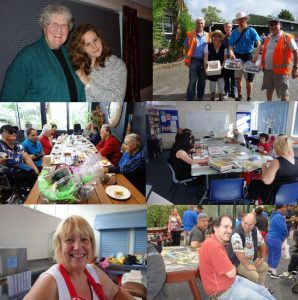 For updates on our EWCT social events please see: https://ewct.org.nz/events/
We are planning a bus trip to Taupo in November to end another successful year. We will pick up a lovely group of people with epilepsy in Tokoroa along the way.
We will keep you informed of details nearer the time.
AGM, Tuesday, 13 September 2016
Our AGM will be held at St Peters Cathedral Hall, 51 Victoria Street, Hamilton on Tuesday, 13th September 2016, commencing at 6.30 pm. If you need transport to the AGM, please contact the secretary at info@ewct.org.nz or the epilepsy adviser, Maria Lowe. Their contact details are above. Soup and some light refreshments will be available after the meeting.
Please RSVP for catering and seating purposes to:
info@ewct.org.nz
Many interesting epilepsy fact sheets have been written and are displayed on our website. Every day, new and interesting articles are put up on our Facebook page so that you are informed on current research happening in the field of epilepsy. Technology is a wonderful tool for gaining information but none of us should forget that social interactions are really important for a healthy outlook on life. Find Peace!
What is PEACE?
Participation. Being a member of our group enables you to confidently make more friends and to participate in events without the worry of being judged or rejected.
Encouragement to succeed. We all like a success story and you will find that each one of us has a positive story to tell. If you are struggling with your epilepsy, we will help you to overcome those difficulties by supporting you along the way. Life is an adventure and many of us go down wiggly roads before we are able to find seizure control and acceptance, but we all get there in the end.
Acceptance. You are okay. Epilepsy is only part of who you are.
Comfort. There are times when you may feel lonely having epilepsy, but you are not alone. We are in this together. We understand what it is like to have epilepsy.
Empowerment. Knowing all about your seizures and feeling connected with others will enable you to feel empowered about your epilepsy. The Epilepsy Club meets regularly and our group is growing. We love to meet new members and we hope that you will come to realise how important your contribution is within our group. We want to encourage all age groups, all ethnicities, and all walks of life because we value everyone and everyone has a place to fill. A gentle chat with a member may be all it takes for someone struggling with epilepsy to feel accepted and not alone.
Please come and join us at any one of our events.
with kindest regards
Epilepsy Waikato Charitable Trust Board
P O Box 633, Hamilton 3240
Phone: 07 855 7378
Email: info@ewct.org.nz