Welcome everyone,
It is only the fifth month of the year and already we have achieved so much this year. On a trust board level, we have said farewell to our secretary AiEe Teo, who has much travelling to do, as her family is spread between many continents of the world. Both Cyril Markham and Faith Gibbs have stepped aside in their former roles on the board but they will continue to serve us well in other ways as trustees. Jill Davies is now our funding manager and we welcome our new treasurer, Emma, who has recently just got married. The trust board has appointed Margaret Paine as our new administrator and so, all in all, we are in excellent hands.
Margaret and Jill
The Epilepsy Waikato Charitable Trust (EWCT) prides itself on having strong connections with people with epilepsy. Each member of our trust board is directly connected to someone with the condition We understand clearly the needs of people with epilepsy and our epilepsy advisor, Maria Lowe, is there to ensure that the complex needs of people with epilepsy, their families and whanau and the wider community are met.
We have had a busy social calendar to date. Many of you took advantage of the free zoo visit back in March, which was a glorious day, and some supported EWCT on the same day at a classic car show.

A social group has been established in Te Awamutu. We meet bi-monthly and it has been really well attended. Our next meeting is on Monday 2nd July from 10 am to midday at the "Dawn Til Dusk' café.
We also have social groups in Tokoroa, Hamilton and Tauranga. We are always open to new suggestions. Please see our events page for more information.






We attended this year's Waikato Wellbeing Expo in April with 'Harry' and we introduced people to our doodle canvas, which was a huge amount of fun.



We will be attending the Women's Expo in Hamilton on the 25th and 26th May.
We are launching our new epilepsy poster and it will be going interactive soon. We will let you all know when. We are quite excited about this, as we believe that it will be the first interactive epilepsy poster in the world.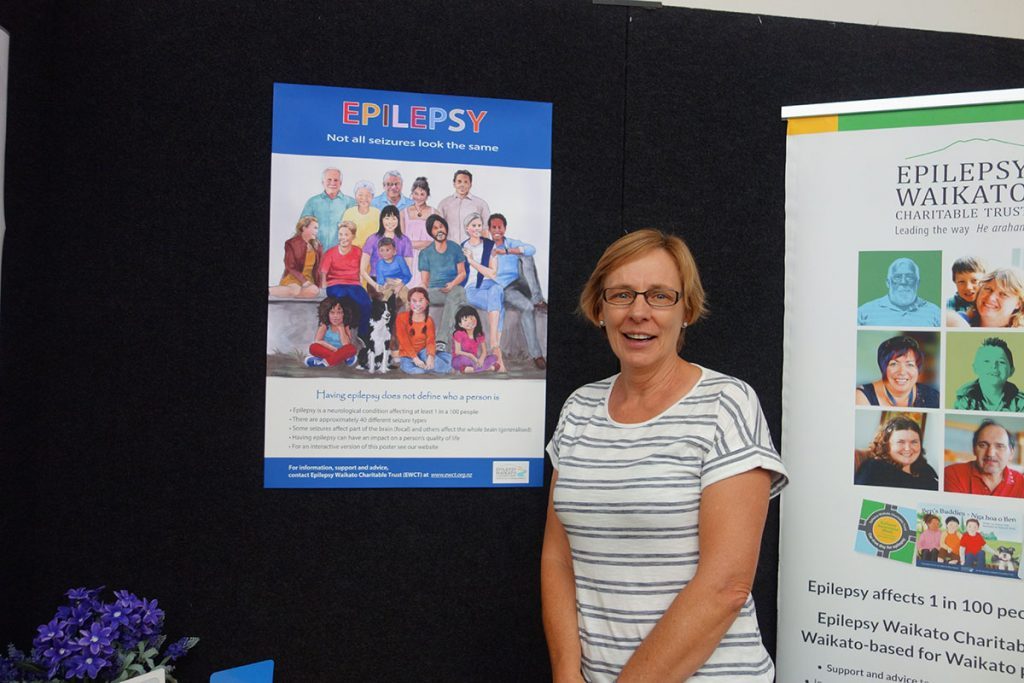 Betty-Ann Kamp designed our poster and Claudia Gadotti, the illustrator of our children's book "Ariana and Jack", drew the wonderful picture in the centre. The idea behind the interactive poster is to draw people's attention to the fact that not all seizures look the same, and how they affect each person will differ. Every person with epilepsy has his or her own unique story to tell.
Our EWCT website now contains 26 epilepsy fact sheets covering a wide range of topics and we have introduced an "A-Z Directory of Epilepsy information and Services" for a quick reference. Every day on our Facebook page, we put up recent articles on epilepsy, and at the end of each month we send out a page of links to those articles for those people who don't use Facebook. The knowledge on epilepsy, the medications used and technological advances in treatments and diagnosis are quickly changing and we would like to share that information with you. We understand that not every article is suitable to you but epilepsy is a complex condition affecting a wide range of people in our organisation.
We have many things planned for the remainder of this year.
Our mid-winter dinner and Epilepsy Hero Award presentation is on Saturday 7th July from 6 pm at the Glenview Club. More information will follow.
We will continue to have our bi-monthly meetings in Tauranga, Tokoroa, Hamilton and Te Awamutu (please see https://ewct.org.nz/events/)
Our AGM meeting will probably be in September (to be confirmed). All are welcome to attend.
We will complete the 'Round the Bridges" walk again this year in November. We would love your company.
Our epilepsy awareness month is in November. Please email Maria if you would be interested to learn more about her new postcard project (maria@ewct.org.nz).
We will plan an end of year trip again this year (usually late November or early December). More on that later.






EWCT is the non-government funded epilepsy provider in the Waikato and as such we appreciate all donations from you and support from our funders. Thank you