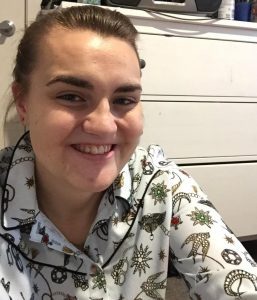 My name is Sarah Nancy Walker and I have had epilepsy for seven years which is very well-controlled.
On the 24th December 2010, a day before Christmas I had my very first seizure roundabout eleven to midnight. Hours before I remember attending the Odeon Cinemas with my family but most of what happened watching the film has been erased from my memory. I don't really remember anything at all. My mum had taken me in the car on the way to Queen Margaret Hospital roughly between 8:00 – 9:00. I began to have shakes and sudden jerk movements that were quite volatile but then calmed down a little but it was ongoing.
At the hospital we were waiting for ages but as soon as I got seen I was bizarrely turned away as the doctor assumed it was a behaviour condition due to seeing aspergers syndrome, a form of autism on my notes. Even though I was continually shaking at this point. I couldn't even speak.
I was diagnosed in early January in 2011 with generalised epilepsy. I am learning to drive now which I am very fortunate for as my condition is well-controlled. It is a way for me to become self-sufficient and independent where I don't need to rely on others. Although I still must tread carefully with my condition. Stress from studying and lack of sleep are trigger factors for me that have caused a seizure in the past.
Epilepsy has opened a brand-new world to me and my family. I feel it makes myself want to be more involved in charities and events that contribute to epilepsy. I feel it is also a fascinating and complex topic to discuss when it comes to the brain – questioning why it happens as most causes in Epilepsy are unknown. Furthermore, it helps a lot for me to discuss matters like this with people that also have a similar condition like me as I feel you get a sense of belonging. 
– Sarah